Do you need to improve your LinkedIn marketing? Wondering which content types will perform best for you?
In this article, you'll find a step-by-step process to help you create a LinkedIn content marketing plan.
Why Content Marketing on LinkedIn Deserves a Second Look
LinkedIn is a thriving community of more than 500 million members around the globe, with more than 100,000 new users joining the network every day. More than 20% of users are senior-level influencers and decision-makers. And it's incredibly easy to get in touch with high-profile decision-makers on the platform.
But there's a challenge: Most users have their shields up because many people are aggressively selling on LinkedIn. How do you get around these shields? By standing out, positively, with a strong profile and thoughtful content marketing.
Most people require six to eight touch points with a business to build enough trust and confidence to make a buying decision. Content marketing is a long-term lead generation strategy that focuses on the consistent creation of high-quality content that is highly relevant to your ideal target audience.
By sharing great and useful content on social media, you create opportunities to nurture and educate your ideal audience over an extended period during their buying journey. Then when customers are ready to make a buying decision, your content has pre-suaded them that you have the skills and experience to solve their pain points—and closing the deal becomes much easier.
There are many forms of content marketing, each with unique features and benefits, including blog articles, images, videos, tutorials, how-to guides, and podcasts, among others. Here's how to get started with content marketing on LinkedIn.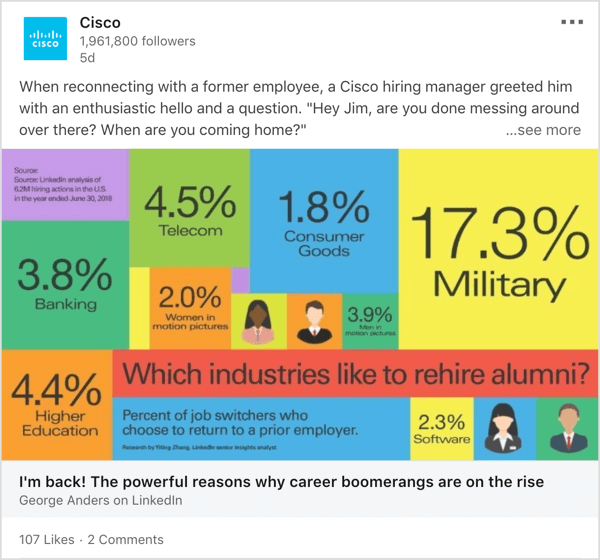 #1: Define Your Marketing Goal
Before diving into content marketing strategies for LinkedIn, think about your content marketing goal. You goal could be to:
Generate more leads for your business.
Increase brand awareness.
Promote your products and services.
Connect with ideal customers and clients.
Build a community around your brand.
#2: Choose Your LinkedIn Content Media and Content Types
To succeed on LinkedIn, you need to be familiar with the content types on the platform, and the content media from which you can publish your content and interact with potential customers.
LinkedIn Content Media
Within the LinkedIn platform, you can publish different content types from different media:
Your personal profile
Your company page
Groups
Direct messages or InMails
Emails
Other people's content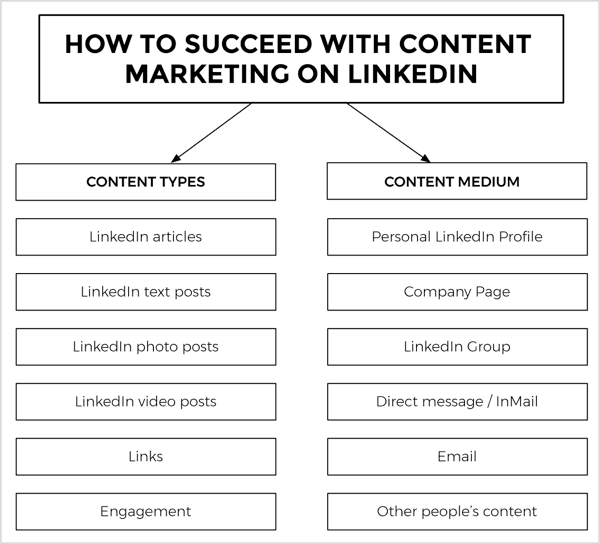 LinkedIn Content Types
As with most other social media platforms, LinkedIn prioritizes native LinkedIn content, which is published on the platform itself and doesn't require users to leave LinkedIn to view it. As such, native content tends to outperform external content (for example, a link to an article on your website). So create native content to take advantage of this.
LinkedIn frequently changes its algorithm and prioritizes different content types. For a long time, LinkedIn articles had the highest reach in views. In 2017, LinkedIn started to prioritize text-only posts. At the beginning of 2018, the focus switched yet again to native videos.
Pro Tip: Maintain a good content ratio: 10%–20% promotional and 80%–90% high-quality content. And create a content mix of all native content types with a focus on videos. That way, algorithm changes won't wreak havoc on your marketing.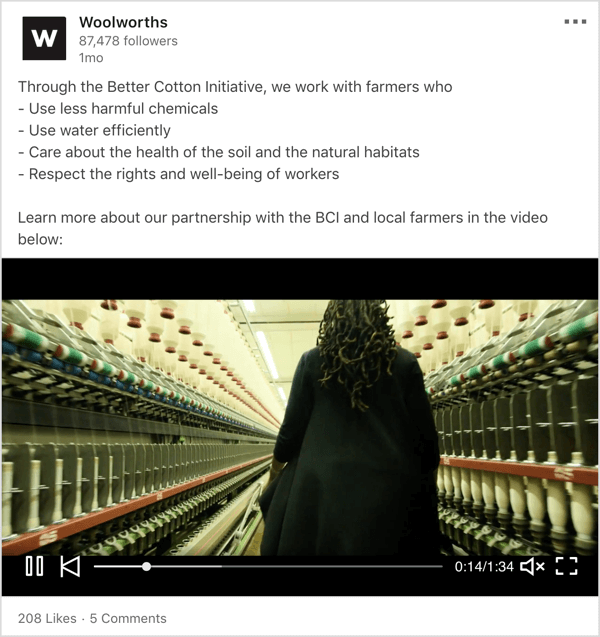 At this moment, the following native LinkedIn content types exist:
LinkedIn Articles
You can create articles only on your personal profile, not on your company page. At the moment, articles have a very low priority in the news feed. In your articles, you can embed many types of multimedia content such as videos, slideshows, and even other LinkedIn posts.
I recommend that you use LinkedIn articles as an intermediate step between LinkedIn videos, texts, and photos on one side and articles on your website on the other side.
A LinkedIn video, text, or photo can give a short and concise summary of a topic.
Each piece of content can promote one of your articles.
Each article can link to content upgrades and articles on your website or blog.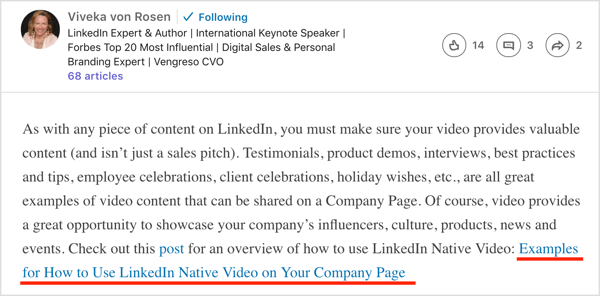 LinkedIn Text and Photo Posts
Text and photo posts are still very important on LinkedIn and come in second place. Try to avoid adding links to external websites within your post text. Instead, you can add them in the form of a comment to avoid punishment by the algorithm.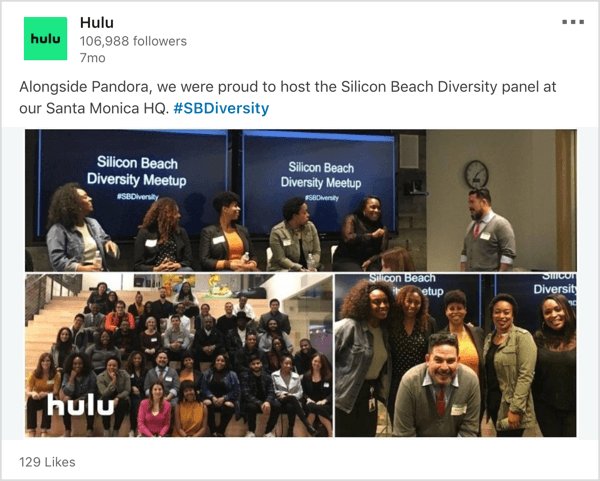 You can safely link to other LinkedIn content (anything that is hosted on the linkedin.com domain). This allows you to re-promote your native LinkedIn content, such as videos and articles, in context.
LinkedIn Videos
LinkedIn videos have a high priority in the news feed at the moment because LinkedIn is actively trying to compete with YouTube and Facebook videos as the top video platform for business content.
But not everyone has time to watch a 10-minute video. Especially in a work environment, it's not possible to listen to the audio track of your video. To overcome this, include subtitles in each video and add a summary of your video in the video description. Also use videos to promote other content on LinkedIn, such as a LinkedIn article.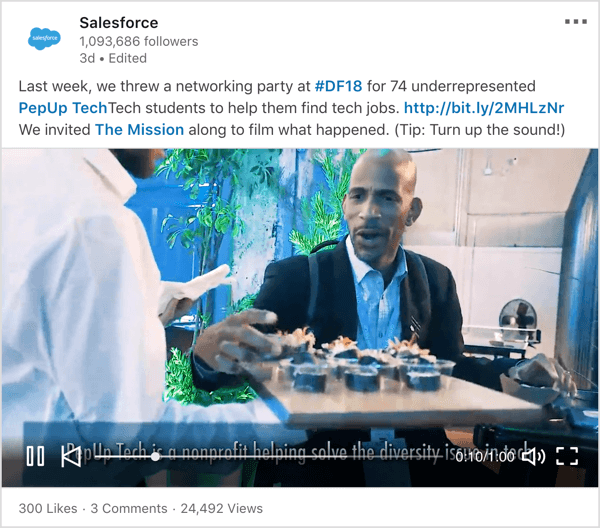 #3: Choose Your Topics and Themes
Wondering what to publish on LinkedIn? Great content has three characteristics: Your audience will love it, it demonstrates your expertise, and it qualifies your audience.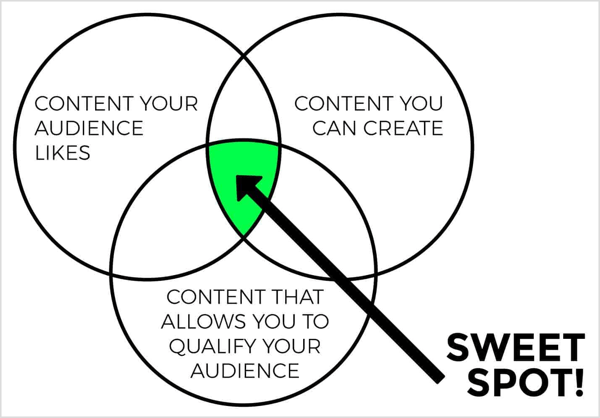 It's important to have a good content mix of different topics and themes to maximize engagement. If you only write about one topic over and over again, you'll exhaust your audience. One way to avoid this is to use a different theme for each month, a unique theme for each week based on your monthly theme, and a different content type for each weekday.
Refrain from using corporate-speak. It will instantly kill any engagement with your content. Instead, communicate in a personal and conversational way, just as you would to a friend. Here's a list of topic ideas to get you started: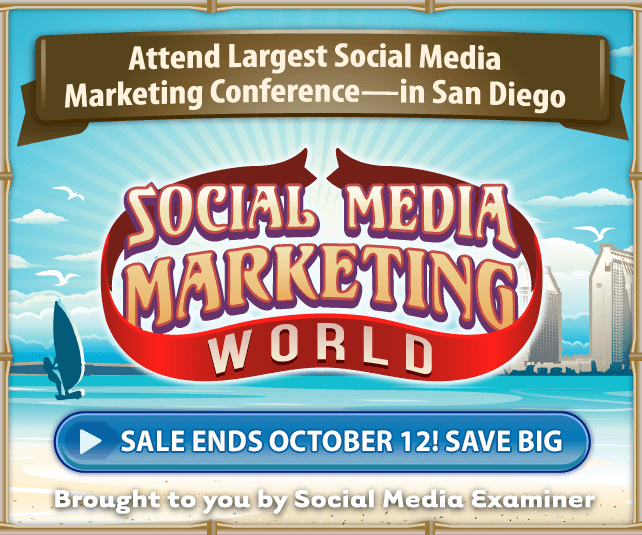 How-to content
Opinion pieces
Industry news
Achievements
Events
Announcements
Life and business lessons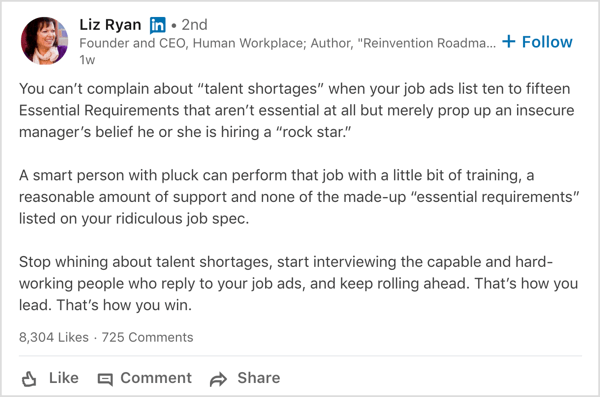 Knowledge and skills
Mindset
Leadership
Strategies and tactics
Productivity
Soft skills
Good content can be both educational and entertaining, create "aha" moments, and evoke emotions. Check out this article about storytelling for LinkedIn marketing with more than 54 additional topic and theme ideas.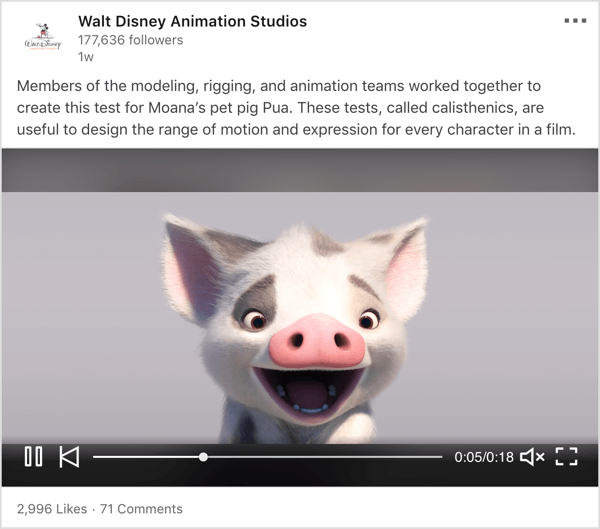 #4: Create Processes and Systems to Organize Your Editorial Workflow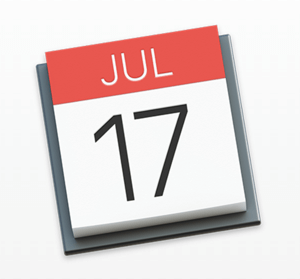 Content creation can quickly become overwhelming. To ensure a smooth content creation flow, it's important to organize your team. Everyone needs to be on the same page and know what's expected of them and when. The same is true if you're a team of one.
Assign topics from your content strategy to specific writers and plan each writing project carefully. Be sure to set specific content goals such as the number of words. Also, establish deadlines for when the content needs to be managed, planned, researched, created/written, edited, reviewed, approved, and published.
To divvy up different tasks, assign one or more roles to different team members, including:
Project manager
Plan creator
Researcher
Visual creator or curator (photos, infographics, graphs, diagrams, or videos)
Content writer/creator
Content editor
Reviewer
Content approver
Publisher/scheduler
If you're a team of one, assign all of the tasks to yourself.
#5: Use Your Native LinkedIn Content to Populate a Sales Funnel
Now that you understand the different content types and media, it's time to put everything together. Your primary goal is to increase the number of touch points with every reader, listener, and viewer, and then to move people away from LinkedIn to your website.
How do you do that? Create as many touch points as possible across all of your channels and publishing media. For each piece of content you publish, create a content upgrade and place it on your website. Include the link to your content upgrades in each native content post. Require people to submit their email address to download it and build an email list of the people who opt in.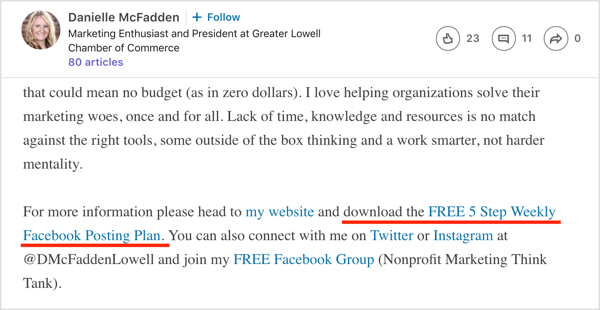 LinkedIn Content Marketing Growth Tips
To get more from your LinkedIn content marketing, keep these tips in mind.
Target the Right Audience
Your ideal target audience should be as similar as possible to your ideal customer avatar. Identify people who will benefit from using your products and services, have the capacity to pay for them, and lack knowledge in areas you can cover in your content marketing.
Engage With Others on Your Content
In addition to publishing your content on the platform, it's essential to engage with other people. If someone is liking, commenting on, or sharing your content, connect with them, reply to their comment, thank them for their share, and start a conversation.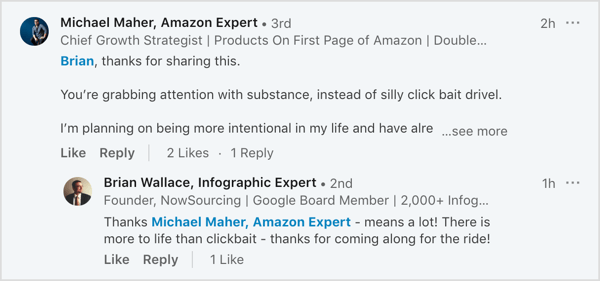 Encouraging engagement with your content will help grow your network. Whenever someone likes, comments on, or shares your content, people in their network will see it in their news feed. Your content can then spread from your direct, first-level connections to second- and third-level connections.
Engage With Other People's Content
When you engage with other people's content, enrich the conversation with your unique perspective. Always think about adding value, never about promoting your content when you engage with other people.
If you leave high-quality, meaningful comments, other people will notice and click through to your profile and follow you. The content creator will often connect with you and engage with your content in return. When this happens, some of their followers will receive a notification in their news feed that the content creator engaged with your post, and will hopefully check out your content and engage with it as well.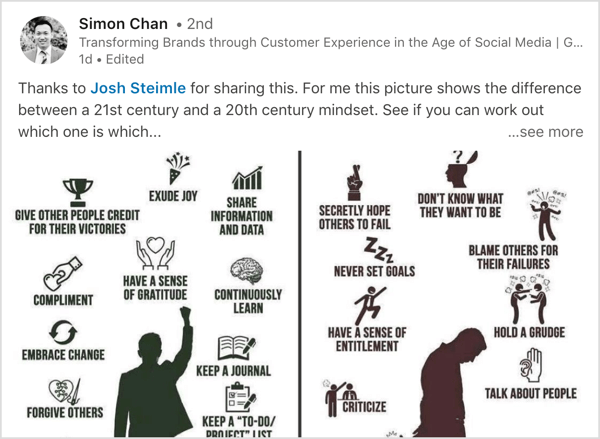 This is how you grow an engaged following on LinkedIn.
Optimize Your Content for Engagement and Visibility
Structure your content in a way that maximizes engagement:
Always include a question at the end of your content to encourage comments.
Actively ask people to follow you and share your content, and tell them what kind of content they can expect from you in the future.
Use the power of hashtags to get discovered by people who are interested in specific topics.
Also, consider creating your own brand hashtag similar to the way HP uses #ExploreHP in the post below. People can click on your hashtag to check out more of your content and follow you.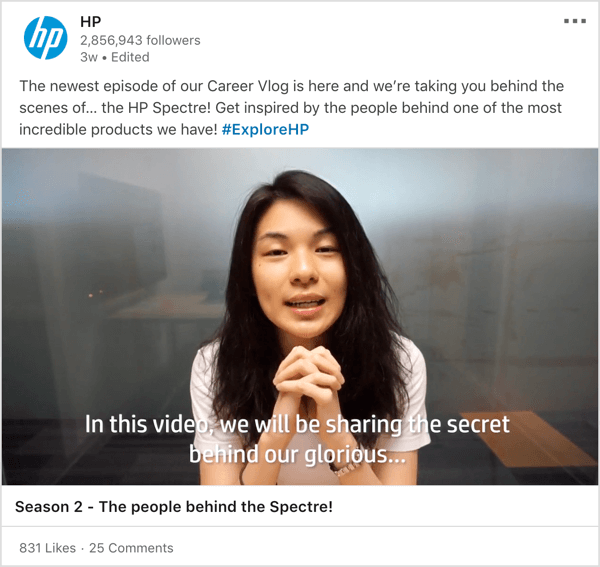 Optimize Your Profile for Business
To get the most out of your LinkedIn content marketing strategy, think of yourself as a brand. People don't want to connect with companies; they want to connect and form relationships with other people.
As such, it's crucial that you optimize your profile:
Get a professional headshot.
Upload a header image to your profile that communicates authority.
Create a great headline.
Personalize your profile URL.
Write a compelling description in each section of your profile.
Add descriptions to all of your experiences.
Include multimedia content for each entry.
Add skills.
Ask for recommendations.
The three most important factors are your profile, header image, and headline. They're displayed near any content you post on LinkedIn (as you can see below) and have a significant impact on whether someone decides to follow or connect with you.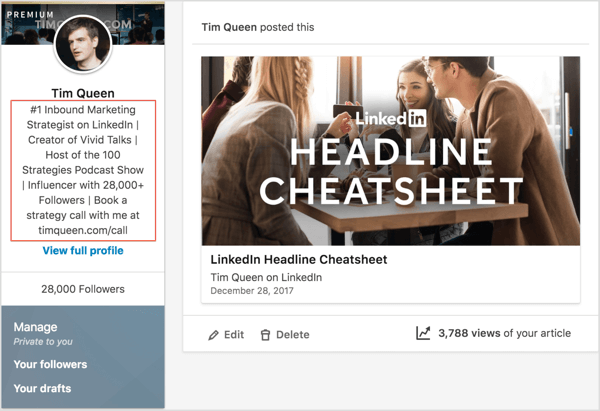 Conclusion
Understand your readers, and create a LinkedIn content strategy that speaks to and connects with your ideal audience. Keep the algorithm in mind at all times and make sure you mix up content types to appeal to different consumption styles.
Block out time to create content and publish on a regular schedule. Each content piece is the springboard to initiate a conversation or to deepen relationships. From there, nurture these relationships and convert them to buy from you.
What do you think? What types of content do you publish on your profile and company page? Do you regularly engage with people who comment on your content? Please share your thoughts in the comments below.
More articles about LinkedIn marketing: