Are you using Instagram Direct Messages to communicate with your audience? Looking for an easy way to provide quick replies to common questions via Direct Messages?
In this article, you'll discover how to create multiple Instagram quick replies to your Instagram Direct Messages.
What Are Instagram Quick Replies?
Instagram has relatively quietly rolled out the Quick Replies feature to all business accounts. Quick replies are previously formatted responses you set up and then insert into a direct message to avoid having to type the same response time and time again to different people.
The average, everyday Instagram user likely doesn't have much need for this tool, which is why Instagram has limited the feature to business profiles. Businesses and marketers will find it extremely helpful and efficient.
Note that quick replies aren't automated responses like a chatbot on Facebook Messenger or an automatic email rule set for certain keywords or phrases. You'll still need to access and read the messages sent to you and then select quick replies from your list of responses to send.
Reasons to Use Instagram Quick Replies in Direct Messages
If there are specific questions you're repeatedly asked via Instagram direct messages or topics that frequently come up, you'll find the Quick Replies feature very beneficial. Below are a variety of situations where quick replies might benefit your business:
If an outside company is responsible for the comment and message responses for your account, setting up pre-formatted quick replies that answer common topics or questions will ensure that your agency has the right information without needing to verify each response with you.
When multiple people manage a single business account, it can be difficult to maintain a consistent brand voice or ensure each person has the same knowledge of each topic or situation. Using quick replies will help your team stay consistent in their responses to inquiries and manage your brand voice when communicating with your audience.
In technical or regulated industries such as the financial sector, one misplaced word or incorrect term can have disastrous effects on your business. To avoid these potential mistakes, use pre-formatted quick replies to common topics that have been reviewed by a legal team or subject matter expert.
In addition to these specific reasons, quick replies also allow businesses to better manage their customer service and virtual storefronts.
According to Instagram, more than 150 million people use direct messages every month to converse with businesses. And almost a third of those people come from Instagram Stories, where currently the only way to respond to a story is via a direct message. With all of this messaging happening with businesses, it's easy to see how simplified messaging and efficient communication will benefit businesses on Instagram.
#1: Outline FAQs and Compose Answers for Instagram Quick Replies
To get started with your first set of quick replies, look through previous message threads in your account to find commonly asked questions. Copy one of your existing answers or draft a new response that properly answers those questions or topics.
Common topics often relate to your business hours, your prices or rates, tutorials on your products, or the best way to order something or confirm a reservation with you. For example, if you run a hair salon, you might frequently be asked about the cost of a cut and color.
If you plan to run a campaign or promotion that you expect will generate comments or questions via direct messages, plan those quick reply responses prior to the campaign and have them loaded in your list so you and other team members will have easy access to them during the campaign.
Although quick replies are standardized responses, make sure the voice and tone of the messages align with your brand style. If your Instagram posts are typically fun and casual with emojis and slang, your quick replies should have the same feel. Format the replies to look and sound as if the same person wrote everything. The responses shouldn't sound automated.
#2: Create Instagram Quick Replies
There are three ways to set up a quick reply in your direct messages. The first two methods require you to be in a direct message chat thread with one or more recipients.
Create a New Quick Reply From Scratch
To create a quick reply from scratch, tap on the Quick Reply icon (it looks like a three-dot chat bubble icon) in the message field of the chat screen.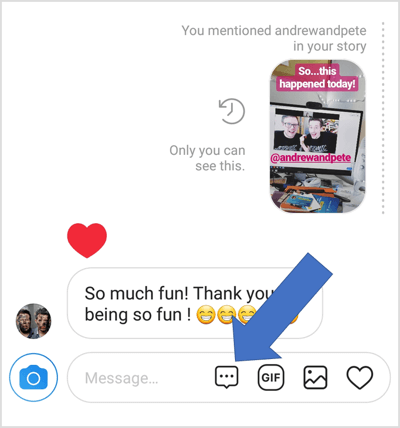 The first time you set up a quick reply, you'll get a screen that briefly explains the Quick Replies feature. Tap New Quick Reply or the + icon to set up your first reply.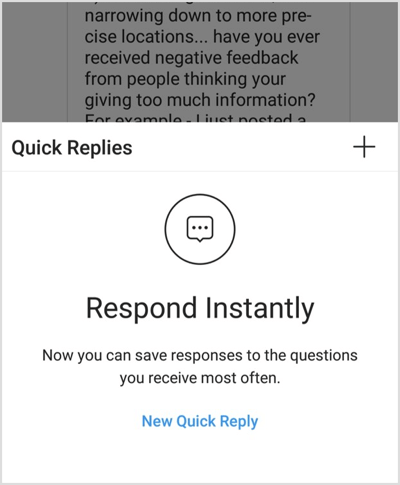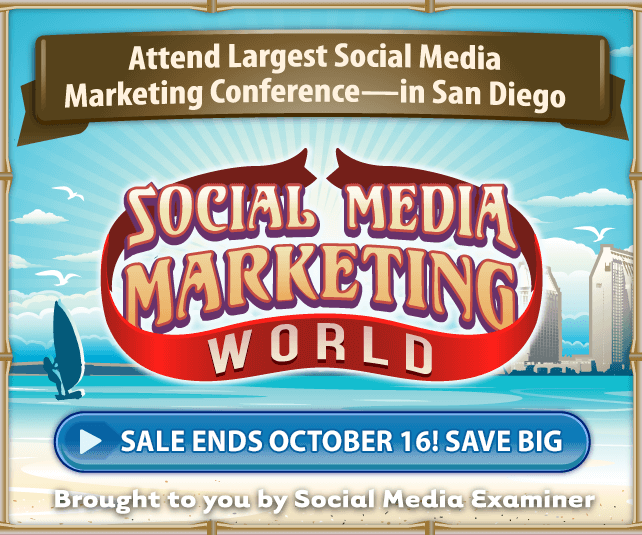 After you've set up at least one quick reply, you'll see a list of all of the replies you've saved. To add a new one, tap the + button on the pop-up screen.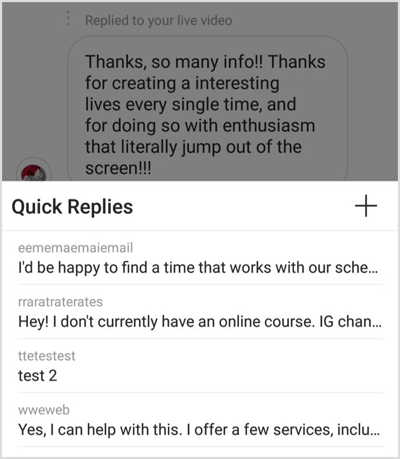 To create your quick reply, type the standard message you want to use in the Message field. Then create a shortcut. The shortcut also can't exceed 15 characters in length. Then tap the checkmark to complete and save your quick reply.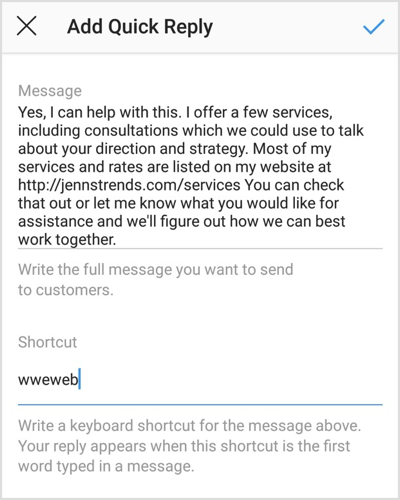 Create a New Quick Reply From an Existing Message
Rather than writing a new quick reply from scratch, you can save any message you've previously sent to someone.
To do this, open the message thread where you've previously answered a commonly asked question with a standard response.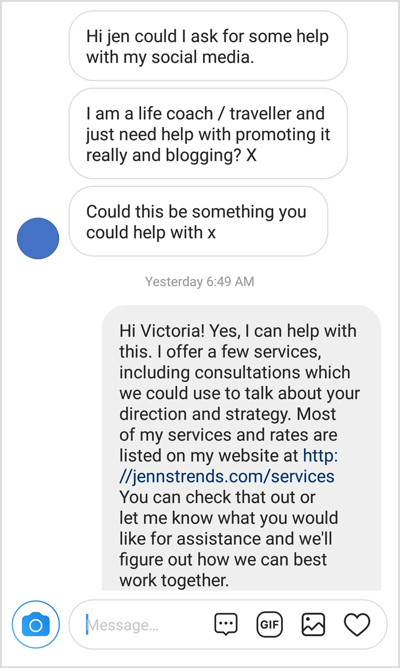 Tap and hold the message you want to turn into a quick reply. From the pop-up screen, choose Save Quick Reply.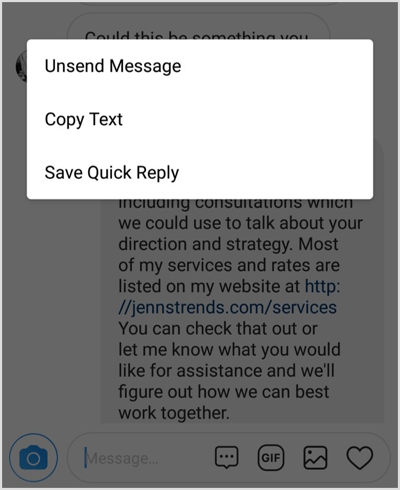 The Add Quick Reply screen will appear with your text autofilled in the Message field. You can edit any of the information here, deleting text, adding more info, or changing the content to be more generic. Create your shortcut as explained in the previous section and tap the checkmark to save it.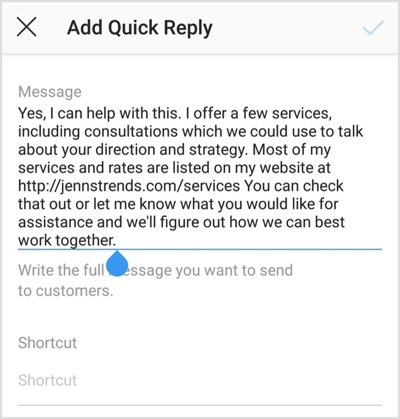 Add a Quick Reply From the Quick Replies Tab in Your Account Settings
To access this option, tap the three-line button on your profile to open your account settings. In the pop-out menu, select Settings at the bottom of the screen. Then navigate to the Business Settings section and tap Quick Replies.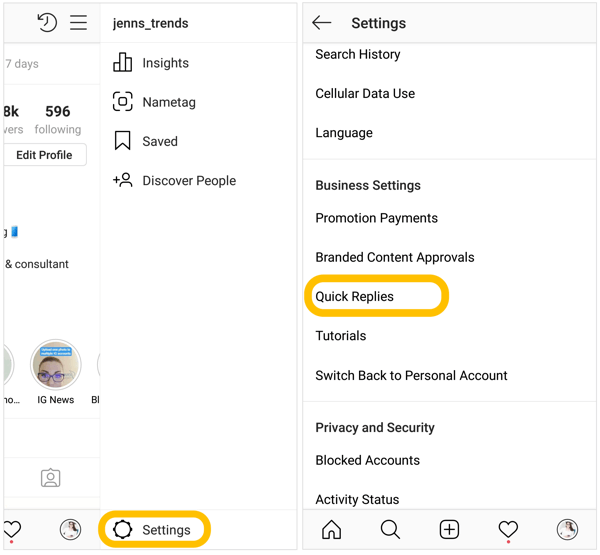 This will open the list of quick replies you've saved. To add a new one, tap on the + icon and follow the steps mentioned above to create your quick reply.
You can always add more quick replies to your list as you need them. As of the publication of this blog post, I haven't found a limit to the number of quick replies you can create.
#3: Edit or Delete a Quick Reply You've Created
To edit your quick replies or delete one, open your list of saved replies from the Business Settings option mentioned above. Then in your list of replies, tap on the quick reply you want to edit or delete.
From here, you can edit the text or change the shortcut. Tap the checkmark to save your changes.
Or to delete the quick reply, tap Delete Quick Reply and then tap Yes on the confirmation screen.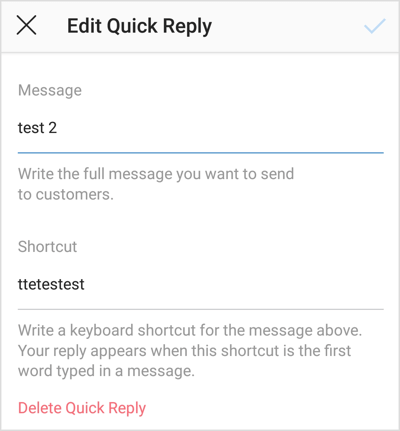 #4: Use Your Quick Replies in a Direct Message
Once you've set up your quick replies, there are two ways to access them and add them to your message thread.
The first way is to tap the Quick Reply (three-dot chat bubble) icon in the Message field. When the list of saved quick replies pops up, select a quick reply to add it to the thread.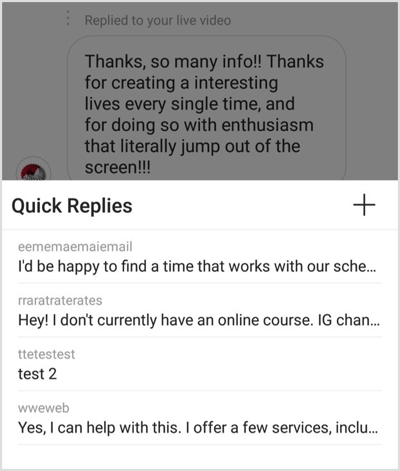 Once inserted into your message, you can edit the text as needed or simply tap Send to send the quick reply.
The second way to use a quick reply is to tap in the message field and type the shortcut key for the quick reply. When the blue Quick Reply icon appears, tap the icon to automatically insert the text associated with that shortcut. You can then edit the text as needed or hit Send to send the message.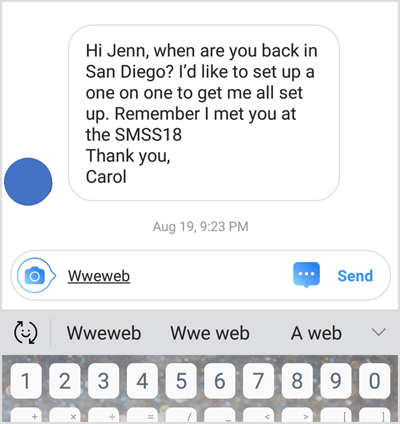 Pro Tip: When you add a quick reply to a message, personalize the message by including a greeting and addressing that person by name. You might also edit the response to specifically address the question, topic, or industry of the person who messaged you. The key is to remember that quick replies are meant to facilitate quality responses, not replace them with automated content.
Conclusion
Instagram is making it more efficient and reliable for businesses to communicate with their audiences. The Quick Reply feature is one more option to keep you connected to your customers and help you build your relationships with them.
What do you think? Are you excited to try out the Quick Replies feature? Or are you already using them for your business? Please share your thoughts or tips in the comments below.
More articles about using Instagram for business: