Want more website visitors? Wondering how Messenger bots can help?
To explore how to bots can drive organic traffic to your website, I interview Natasha Takahashi.
More About This Show
The Social Media Marketing podcast is designed to help busy marketers, business owners, and creators discover what works with social media marketing.
In this episode, I interview Natasha Takahashi, a chatbot expert and founder of the School of Bots, a community for marketers seeking to master bots. She also hosts the There's a Bot For That live show, and she has a range of courses including Chatbot Agency Accelerator.
Natasha explains how to integrate chatbots into your social media and email marketing.
You'll also discover tips for growing your bot subscriber list and engaging with subscribers effectively.
Share your feedback, read the show notes, and get the links mentioned in this episode below.
Listen Now
Here are some of the things you'll discover in this show:
Messenger Bots That Drive Website Traffic
Natasha's Story
In 2016, after working as a marketer for tech startups and with a few clients of her own, Natasha was planning to launch a social media marketing agency with her co-founder, Kyle Willis. To stay on top of everything happening in social media marketing, she watched F8 (Facebook's developer conference) remotely, where they announced Facebook Messenger bots.
At the conference, Facebook showed enterprise examples, but right away, Natasha wanted to start testing whether Messenger bots would be effective for her clients, which were small- and mid-sized businesses. She thought if she could learn to market with bots really well, she might be able to make her new agency stand out.
After about 4 or 5 months, Natasha's bot marketing was going well for her clients. As is common with bot marketing, her clients had high open and click rates. They also had good conversion and retention rates. Since getting started with bots 2 years ago, Natasha and her agency have built about 100 bots.
Today, in addition to her chatbot agency, Natasha and Kyle run School of Bots, which launched in January 2018. They created it as a resource for chatbot marketing and strategy, with free articles, videos, and interviews with thought leaders. Their goal is to provide up-to-date content in a niche that changes quickly.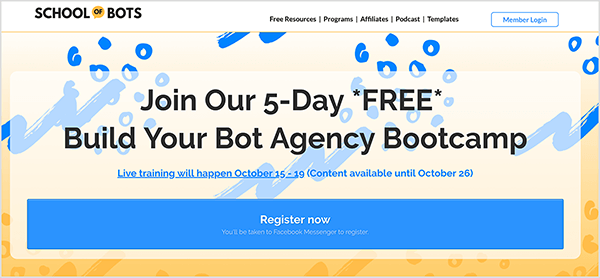 At the same time, Natasha and Kyle launched the Chatbot Agency Accelerator, which teaches people how to build their chatbot agencies and add chatbots to their offerings. Although they didn't push this program, it's taken off. They've grown the community, and Natasha has been doing a lot of speaking engagements.
Listen to the show to hear Natasha share what some of her hopes were as she became an entrepreneur.
Why Use Messenger Bots?
Natasha thinks right now is the perfect time to build a bot for your company or clients because, with all of the buzz about bots, people know about them but may not fully understand them.
Although WhatsApp surpassed Messenger in terms of number of users, Natasha still recommends focusing on Messenger because its users still send more messages per month than WhatsApp users do. Also, Facebook Messenger works with chatbot platforms like ManyChat and Chatfuel, which are designed for non-coders and make it easy to create a chatbot and get results.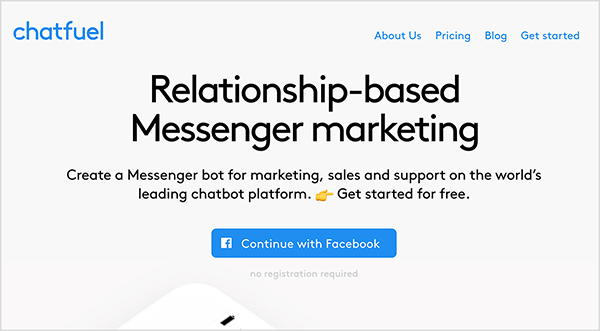 Right now, other platforms like Slack, Skype, Telegram, and WhatsApp are still just like email in terms of how you can use them to market to users.
Messenger chatbots are also a great way to drive traffic to your website now that the Facebook algorithm no longer prioritizes social posting. With a chatbot, no algorithm is controlling what people see; you can control the conversation between your page and the user. Thus, driving traffic with a chatbot is much easier than it is with a regular post to your Facebook page or even an email.
Listen to the show to hear my thoughts about chatbots versus email.
How to Grow Your Bot List
Natasha shares ways to grow your bot subscriber list via your website and social media. On your website pages, you can add personalized slide-ins and chat icons. A slide-in is like a pop-up window that says something like, "Would you like to receive a message the next time we share a blog post? If so, opt in on Messenger."
The chat icons look similar to a live chat icon that says, "How can I help you today?" With chat icons, you can have a conversation on your site via your Messenger bot. The person never has to leave your website to interact with your bot, and the chat tool looks very similar to the live chat features that people are used to.
These features let you capture people who visit your site before you begin driving them there. You can add slide-ins and chat icons on your home page and every blog article page. This tactic is similar to the one used to capture emails with a lead magnet. You can even combine email and bot subscription requests, and test delivering the second part of a lead magnet or a discount code via bot.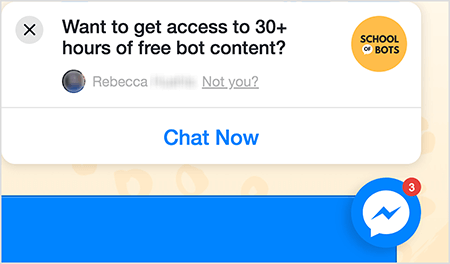 To add slide-ins and chat icons to your website, you use a bot-building platform like ManyChat. The process is fairly easy. Facebook Messenger gives you a little checkbox you add to your website. Then, when people are on your website, they simply need to select the checkbox to be added to your Messenger list. If you're combining email capture and bot subscriptions, you can add the box to a form.
For your bot-building platform to connect your website and Messenger bot, your website needs to be set up with the platform that you're using. To illustrate, after you set up ManyChat on your site, it allows any checkbox from its platform (and that you add to your site) to connect a user to your bot. However, if you use a form created via your email provider, the process is a bit more complicated.
Natasha also notes that Messenger bots require a two-step opt-in. After a user opts in via the checkbox on your site, the user still needs to respond to the bot in Messenger in order to be subscribed to it. Messenger bots work this way so that advertisers can't blast people's inboxes.
For the second step of the opt-in, the best approach is to ask users what communications they want to see from you. Bots make it easy to segment your audience in deep detail, and you can start doing that right away. Natasha creates a subscription dashboard that asks if users want to be notified about blog articles, sales, or interviews. People can subscribe only to what interests them.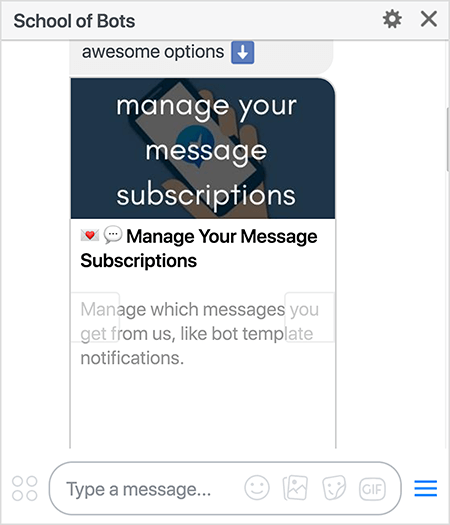 In addition to slide-ins and chat icons, your website can also include special links that direct people to your chatbot. You can also add these links to your emails and social media profiles on Instagram, YouTube, Medium, and so on. These links direct people to your bot. Because the link tracks where people came from, your bot can send a specific message based on that.
To visualize this, in your Instagram bio, you can add a link to your chatbot. When someone clicks it, they go to Messenger and your bot can say, "Hey there, welcome from Instagram! Thanks for following us. Do you want to get notified when we share a new post?" or whatever offer you're running at the time. That's typically how it would work.
In email, Natasha recommends split testing links to your website versus your bot or offer two options in the actual email. Your email might say, "If you want to read our latest blog article, click this link to go to Messenger or click this link to go to our website." In this way, you can slowly onboard your audience to your bot. With email campaigns, people can get confused so it's important to move slowly.
Listen to the show to hear my thoughts about the different email providers businesses use.
How to Drive Bot Subscribers to Your Website
After people subscribe to your bot, sending them to your website for a specific reason is important. Natasha emphasizes that you can't simply ask subscribers to check out your website; you need to give them a reason to do so.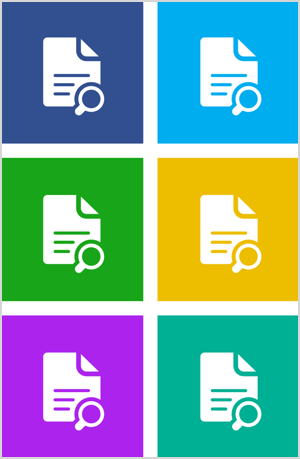 If your site has several articles or videos about a specific topic, your bot can mention the series on the topic and lead people through each article or video. After a user says they're interested in the series, the bot can say, "Here's the first one. Click here to see it or listen to it." The link would send them to your site.
Between each article or video, you can implement a delay in the conversation and engage with people about your content. The delay can be a full day, an hour, 30 minutes, or however much time you want to give them before the bot says, "Hey, what do you think about it?" After you engage with a user about the content, add another delay before you share the next piece in the series.
Typically, your link will open in an embedded browser, which is called a WebView inside Messenger. Technically, your bot subscribers don't leave the app, so clicking your link isn't disruptive and doesn't cause friction. However, you can still use cookies for tracking users with Google and other services.
You can also automate bot notifications about new articles on your website. The easiest way to implement this automation is with RSS feeds. (Both Chatfuel and ManyChat can work with RSS feeds.) Alternately, you can use Zapier or Integromat to set up a trigger when new content appears on your site. Then you can use that trigger to send Messenger broadcasts.
I ask how Integromat is different from Zapier. Natasha says the two services are functionally similar, but Integromat works with hundreds of apps. Most of the time, as long as you're using a big provider, it works with the app you want to integrate with your bot.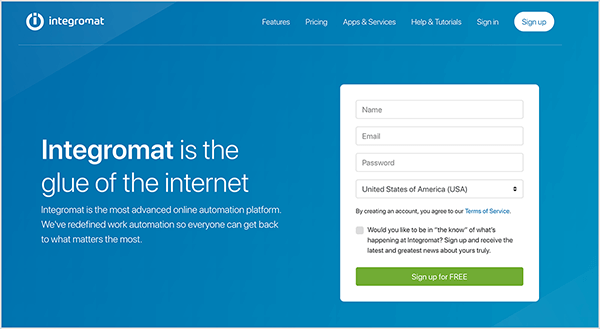 Natasha also mentions a few other ways to drive traffic to your website. On Facebook itself, you can drive traffic with Facebook ads or an organic Facebook post. Simply connect the bot to your post so when people comment, your bot will send them a message. Or if you include chatbot links in email campaigns, you can customize the link so it's specific to a lead magnet or new blog article.
Listen to the show to hear Natasha discuss repurposing a blog article into chatbot content.
Bot Campaign Example
To show how a bot campaign that drives traffic can work, Natasha shares an example of a recent product launch campaign that generated $48,000 with no paid traffic. The campaign combined three assets in order to grow each one: an email list (Natasha uses ActiveCampaign), the School of Bots Facebook group, and the School of Bots chatbot.
Right before the product launch, Natasha and her team ran a free 5-day boot camp that showed people how to set up agencies systematically. More than 600 people registered, and although that isn't a huge list, everyone was incredibly engaged.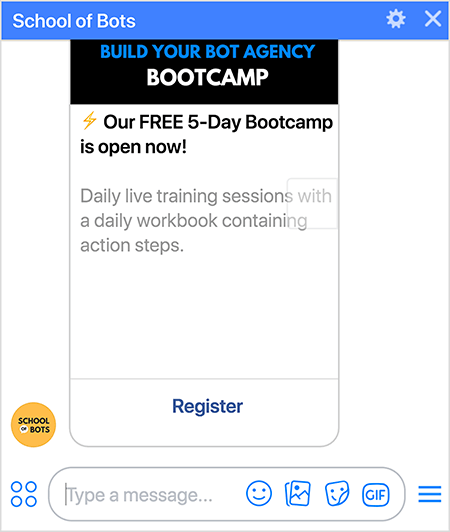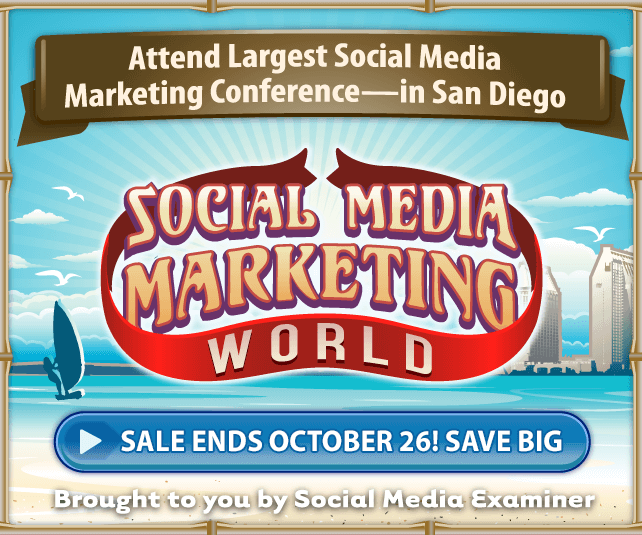 Instead of using a typical website form or an ad for registration, School of Bots sent people to the Messenger bot. The process started with the message, "Hey, welcome to the boot camp!" Then the bot checked whether it had the user's email address and then asked users to either confirm or provide their email address.
This ability to check for an email illustrates one of the beauties of bots. Because the bot can check everything that you're talking to the user about, you can avoid repeating yourself or talking about things that are irrelevant.
Next, the bot offered a $97 bot template for free to anyone who referred friends to the boot camp. This tactic allowed School of Bots to get lots of organic traffic to its Facebook group and email list. People invited 5-10 friends, even though School of Bots asked them to invite only one.
The invitation process also worked via the bot. The bot asked users if they wanted to invite a friend. They could respond Yes or No. If they clicked Yes, the user received instructions to comment on a post in the Facebook group that told people about the boot camp and how to register. In the comment, the user had to tag the friend who was invited to the group and add the hashtag #template.
With this invitation system, the expectation was that the friend would also go through the bot, and School of Bots could capture the friend's email as well. Also, because you currently can't automate a process like this with a bot, someone from the School of Bots team had to manually check who should receive the free template. However, you can deliver a freebie automatically with a page post.

About 60%-70% of the boot camp registrants participated in the referral incentive. This figure illustrates another important aspect of bots. Because bot conversations are intimate, people need the option to say No. For instance, if you're collecting an email or offering an incentive, it needs to be okay that someone doesn't want to provide an email or participate in the incentive.
The School of Bots boot camp was 5 days of Facebook Live videos plus a daily workbook. After the boot camp, School of Bots launched the Chatbot Agency Accelerator, which was its first official product launch. The program had been in beta and for sale, but School of Bots hadn't pushed it until the launch.
About half of the sales happened in the first 48 hours, and the rest toward the end of the launch, which lasted 14 days. Natasha credits the chatbot funnel for bringing in a lot of the leads. The Facebook group added about 1,500 new members, and School of Bots added about 900 new email subscribers.

Although the campaign wasn't huge, it generated $48,000 because people were so engaged. The conversion rates and engagement rates were much higher than they would be for a big list. This campaign illustrates the power of intimacy and how much that increases engagement. Moreover, engaging with people over a period of time, like the 5-day boot camp, helped the product launch.
Listen to the show to hear Natasha share examples of her bot messages.
Dos and Don'ts for Promoting Your Content
Natasha shares how to handle everything from timing messages for users in different time zones to Messenger's rules for selling to how to prepare for the future of bots.
Bot Etiquette: When you're messaging someone, they usually receive a notification on their phone. Most of the time, you want to be careful about the time of day people receive that notification. If you have users across many time zones, pay attention to the platform you're using. Certain platforms allow you to send messages at certain times or accommodate different time zones.
Natasha says an exception is if your message is time-sensitive. If you're closing your cart or doing a live interview at a certain time, don't worry about time zone. In the end, people have opted into your messages, and they know some messages might be inconvenient for them.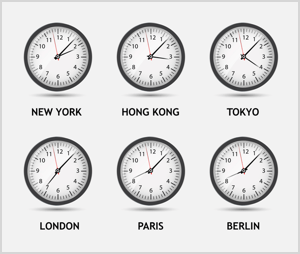 When you do manage time zone, Facebook collects that attribute for you. In your chatbot platform, you can see the time zone people selected in their Facebook settings and program your bot to send a message (such as a note about a new blog post) at a specific time, such as 9:00 AM for the user's time zone. With the tagging available in bots, you can send only the articles users want to see.
Because messaging platforms are an intimate channel where people talk to their friends, family, and colleagues, any business on the platform needs to be wary of crossing boundaries or coming across as too aggressive. Messenger is the first of these platforms to use bots, but soon this point will also be relevant to other platforms like WhatsApp, Line, and Telegram.
Just as Natasha mentioned in her earlier example, a key way to respect people's boundaries is to always give bot users a way to say No. Also, even if people don't want to share an email address, you still need to give the user content and an option to talk with you.
Messenger Rules for Selling: When you're selling with Messenger, you need to follow its rules. If you don't, you risk being removed from the platform. Be sure to research the terms and policies, and what types of messages you can send to people and when, so your bot continues to be in good standing with Messenger.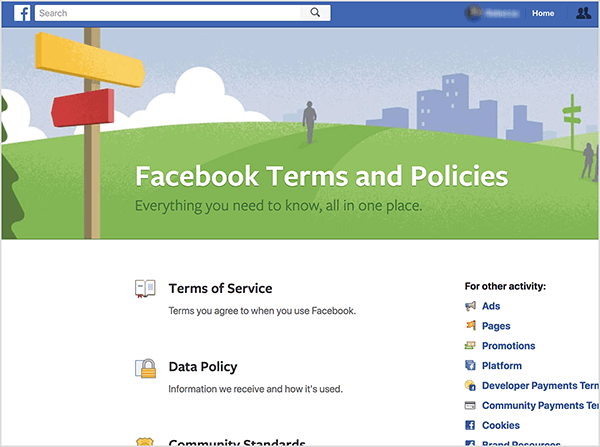 To illustrate, if someone hasn't interacted with your bot for 24 hours, you can send them only one message that's promotional or drives people to a sale. You want to choose how you use that message carefully. After you use it, you can no longer send people notifications about a cart closing or a discount code, because that content qualifies as a promotional.
However, this restriction applies only to promotional messages. Sharing educational content, such as a new blog post, doesn't necessarily violate the rules. In the end, the restrictions on promotional content help keep the platform valuable to marketers.
Messenger Bots Versus Email: If you use Messenger bots in the right way, have great conversations with people, and follow the rules, the bot can have better ROI than email. That's because a bot allows you to have a small but highly engaged list, which leads to a high conversion rate. Engagement matters much more than list size.
Because Messenger isn't saturated with marketing messages right now, people see your messages there more than they see your emails. However, Natasha recommends marketers continue to grow their email list. Instead of leaving email in favor of Messenger, you can add Messenger to your opt-in forms. Then you still have a way to connect with people who don't use Messenger regularly.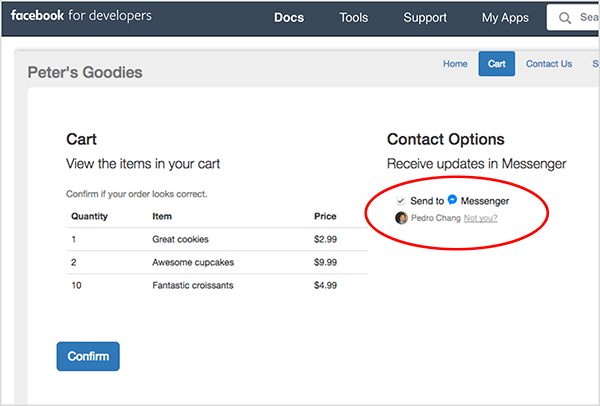 Your email list is also important because you own it, whereas you don't own Messenger.
Multiple Uses of Bots: A common misconception is that you can use a bot for only one thing (like answering frequently asked questions) and need another bot to do anything else. However, bots are dynamic tools, and you can do almost anything you'd like with one bot.
Tagging is part of what makes bots so flexible. If you create your bot so people can subscribe only to the content topics that interest them, the bot tags their preferences, and you can use those interests for a big campaign or use case down the road. The tags allow you to differentiate between what you send one group versus another, and bots make organizing and editing tags fairly easy.
Future of Bots: ManyChat is just starting to expand to WhatsApp and a couple of other platforms. Right now, it's hard to say how bot-building platforms will work with those platforms.
Although it would be amazing if ManyChat added discoverability across platforms like Messenger and WhatsApp, the platforms might want to stay separate. Today, you can combine resources within Facebook by downloading your Messenger bot subscriber list, entering the emails and custom audience information you have into Ads Manager, and running ads only to your list.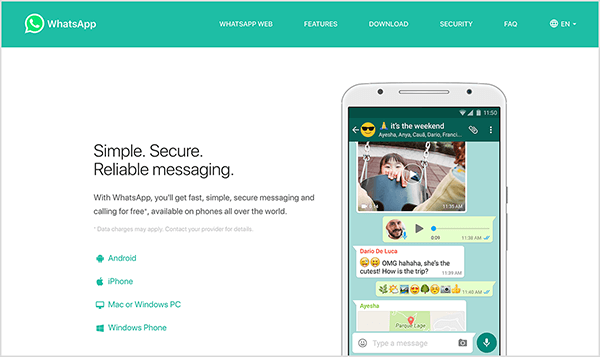 Looking ahead, Natasha is curious to see whether WhatsApp will add similar functionality. For instance, if you're using a platform like ManyChat, maybe you'll be able to download your Messenger list and then capture those same people on WhatsApp. Also, when you think about Facebook's whole family of apps, Instagram will likely have its own messaging capability.
Because Messenger is just the start of bots, Natasha recommends creating a bot even if you don't know what you want to do with it. You'll learn how messaging and marketing come together. Then, as this area of marketing grows to other platforms, you'll be ahead of the curve. You'll already understand how to communicate with people on those platforms.
Listen to the show to hear my thoughts about growing Social Media Examiner's email list versus a bot list.
Discovery of the Week
NotaBene is a cool note-taking app that makes it easy to gather and share ideas.
NotaBene stands out from other note-taking apps for several reasons. First, you can set up contacts for people to whom you frequently send notes on the fly. For example, you might add team members as contacts. Also, you can share voice notes, photos, screenshots, and text with any contact seamlessly. You don't need to open another app. It's a one-stop shop for taking and sharing notes.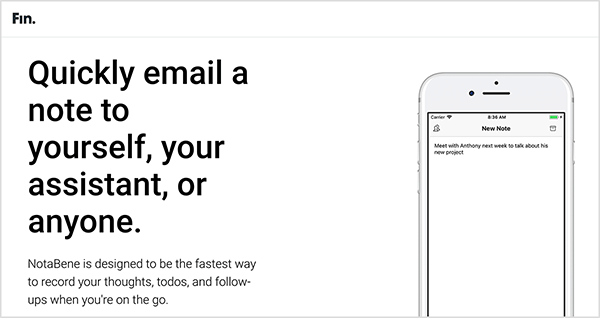 NotaBene is simple and easy to use. It has a microphone button for taking voice notes. After you use it to record a voice note, you can send that voice note to a contact via their email. The contact receives your voice memo as a WAV file and a transcription of your message so they can listen to or read your notes. You can bundle photos and screenshots into the same note, too.
NotaBene is also great for sending notes to yourself, especially if you use a system like Trello or Evernote that gives you an email address. After you set up that email address in NotaBene, you can tell it to send a note to your Evernote or Trello board.
NotaBene is free and available for iOS and Android.
Listen to the show to learn more and let us know how NotaBene works for you.
Key takeaways from this article:
What do you think? What are your thoughts on driving website traffic with bots? Please share your comments below.