Welcome to this week's edition of the Social Media Marketing Talk Show, a news show for marketers who want to stay on the leading edge of social media.
On this week's Social Media Marketing Talk Show, we explore the new YouTube live tools and features with Amy Landino, new Facebook Messenger features, and other breaking social media marketing news of the week!
Watch the Social Media Marketing Talk Show
If you're new to the show, click on the green "Watch replay" button below and sign in or register to watch our latest episode from Friday, March 9, 2018. You can also listen to the show as an audio podcast, found on iTunes/Apple Podcast, Android, Google Play, Stitcher, and RSS.
For this week's top stories, you'll find timestamps below that allow you to fast-forward in the replay above.
YouTube Adds New Live-Streaming Tools and Features: YouTube introduced "more ways to watch live videos and interact with your community in real time." YouTube is starting to roll out a new chat replay feature, which appears alongside the video and unfolds exactly as it did when the video was live-streaming. YouTube also announced automatic captioning for broadcasts in English, location tags for mobile live streams and video uploads, and the ability to set up Super Chats for channels using IFTTT. (2:55)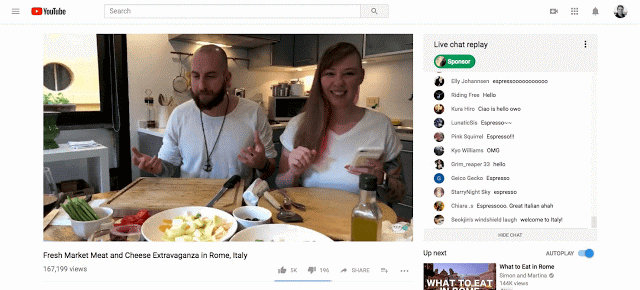 YouTube notes that the automatic captioning will roll out "in the coming weeks" and is currently only available for videos in English. The company plans to continue improving its accuracy and latency over time. Meanwhile, location tags and the new integrations with IFTTT are available now.
YouTube Rolls Out Updated YouTube Studio: YouTube has been beta testing and experimenting with the new YouTube Studio, an updated version of Creator Studio where users can upload videos, manage their channel, and grow their community, since June 2017. This week, YouTube announced plans to make YouTube Studio the default experience for many creators "over the coming weeks." It will include three new YouTube Analytics metrics and a new dashboard that provides insights on your latest upload, personalized recommendations, and instant updates on the latest news from across YouTube. (12:43)
Facebook Messenger Releases New Customer Service Tools for Websites: With the launch of Messenger Platform 2.3, Facebook rolled out several new tools that will make customer interactions on websites more seamless, intuitive, and enjoyable than ever before. These updates include quick replies for requesting users' email addresses or phone numbers, new message tags, and two new Messaging Insights API metrics. Facebook also expanded the customer chat plugin capabilities to include an easy setup tool, persistent menu support, in-browser user notifications, and much more. (21:05)
Facebook Tests Messenger Chatbot Alternative: Facebook is testing a new self-serve sponsored messaging tool targeted to small businesses that are not ready for, nor interested in, building a chatbot. A prototype of this new tool, called Messenger Broadcasts, was spotted in late November 2017. TechCrunch reports that a Messenger Broadcast Composer, which allows companies to blast a message to anyone who's already started a conversation with them within Messenger, is now being tested among a small percentage of pages in the U.S., Mexico, and Thailand. The tool is free to use, but will eventually evolve into a paid product and limit the number of messages that can be broadcast to deter spam. (26:33)
Facebook's next money-maker: Messenger Broadcasts https://t.co/VJYNmV9oTo by @joshconstine

— TechCrunch (@TechCrunch) March 1, 2018
Facebook Introduces Video Chat to Messenger Lite: Facebook added video chat to Messenger Lite, the simpler version of Messenger for Android on older phones and slower Internet connections. Messenger Lite offers core messaging capabilities like sending text, photos, links, and audio calls to people with either Messenger Lite or Messenger and now offers users the ability to have face-to-face conversations. (29:18)
Twitter Introduces Bookmarks and Other New Sharing Tools: Twitter added a new share icon on every tweet with three new ways to share content and save things you want to explore later. Twitter rolled out Bookmarks, which provides a discreet alternative to using the Favorite button. Twitter also added the option to share a tweet via Direct Message or share off of Twitter any number of ways. Bookmarks are now available globally on Twitter for iOS and Android, Twitter Lite, and mobile.twitter.com.
Found something historic?
Don't want to forget a joke?
Article that you want to read later?

Save the Tweet with Bookmarks, and come back to it whenever you want. Only you can see your Bookmarks. pic.twitter.com/fM2QLcOYNF

— Twitter (@Twitter) February 28, 2018
Twitter Notifies Users Mentioned in Group Direct Messages: Twitter announced that participants in group direct messages will receive notifications if they're mentioned during the conversation. This update is available now in the mobile apps and is coming soon to Twitter Lite and the web version.
If you're already a part of a group Direct Message, you'll receive a notification when you're mentioned in the conversation. ✉ Now available on the Twitter apps and coming soon to Twitter Lite and web! Learn more, including how to adjust your settings. https://t.co/eaO5QDnHNC

— Twitter Support (@TwitterSupport) March 7, 2018
Facebook Adds New Dynamic Ad Option for Travel Brands: Facebook rolled out a new type of dynamic ad for travel called Trip Consideration. This new ad product is designed "to help travel advertisers reach people who have expressed intent to travel, but have not yet decided where to go." Trip consideration ads reach people when they're still looking for travel inspiration and showcase flight and hotel deals and popular destinations to encourage them to book their next vacation. Trip consideration ads work in conjunction with existing targeting options across Facebook, Instagram, and the Audience Network.
Facebook Experiments With Marketplace Ad Placement: Facebook appears to have rolled out a new ad placement in Marketplace, its buy-and-sell section that focuses on local deals. The new Marketplace placement allows advertisers to "reach people who are already looking for goods and services" on Facebook. This new Facebook ad placement was discovered by Kim Reynolds.
Instagram Reportedly Preparing to Release In-App Video, Voice Calling, and Other New Features: TechCrunch reports that files "buried" in the Instagram and Instagram Direct stand-alone app's Android Application Packages (APKs) reveal files and icons for Call and Video Call features. Because APKs "often show files for unreleased features that are lying dormant in an app waiting to be surfaced when the company is ready to launch them," it's widely speculated that Instagram will soon roll out the ability to make voice and video calls through the app.
Instagram code reveals unreleased voice and video calling https://t.co/EaAunqYkte

— TechCrunch (@TechCrunch) March 3, 2018
In a separate article, TechCrunch reported that Instagram's APK also revealed a hidden portrait camera mode. Although no details have been officially shared by Instagram, The Verge speculates that the unreleased portrait mode could be used to enhance and improve photos through blurred backgrounds and new lighting options. It might also be incorporated into Instagram's camera like the Boomerang and Superzoom tools or in the Stories camera.
Instagram's code reveals a potential portrait camera mode https://t.co/8jbu1PkSMW pic.twitter.com/7DtxPdc6l6

— The Verge (@verge) March 7, 2018
Instagram Tests New Ways to Save and Bookmark Posts, Data, and Chats: The Next Web reports that Instagram is currently experimenting with new ways to organize, bookmark, and save your content and data. One such feature is the ability to "star" a chat, which marks it as a favorite and makes it easy to reference in the future. Another is the ability to download all of your data from Instagram's servers. This data includes all of your photos, the information you've added to your profile, and more.
4 new features (possibly) headed to Instagram https://t.co/shgOE8RUuU

— TNW (@TheNextWeb) March 7, 2018
Facebook Adds Boost Button to Group Posts: The Boost Post button has arrived on Facebook Groups. With this new tool, group admins get three targeting options for link posts inside a group: generate more clicks; attract more engagement with likes, shares, and comments; or prioritize potential customers. Admins may also integrate a WhatsApp number, change the call-to-action button, gather insights on reach, and more. This new feature was discovered by Mari Smith.
Facebook Adds Scheduled Post Option to Events Pages: Facebook now makes it easier for admins and event creators to plan and schedule posts on their Facebook Events pages. They now have the option to write a post that will be published to the page at a later time, like a welcome greeting or a follow-up question for an event. This new tool was spotted in the Social Media Marketing World 2018 event page by Mike Stelzner.
Facebook Tests Automatic Event Creation Feature for Pages: Facebook confirmed that it's currently experimenting with a new feature that automatically creates Facebook events using information found within page posts. Adweek reports that Facebook is looking to make it easier for page admins to create in-person events and launched a simple post template with straightforward options.
Facebook Is Testing a Feature That Automatically Creates Events for Page Admins: https://t.co/rXfXGhBUza #facebook pic.twitter.com/j9pYI13j39

— Social Pro Daily (@SocialProDaily) February 28, 2018
Facebook Tests Rewards Feature for Pages: Facebook appears to be testing a rewards program feature for pages. Facebook takes admins through the step-by-step process of creating and setting parameters around a rewards program if they don't already have one in place. It also provides insights on how many rewards have been sent and viewed by your customers. This possible new loyalty feature was discovered by Matt Navarra.
Facebook Tests Voice Clips as Status Updates: Facebook is currently testing Voice Clips, a new status update option that allows users to share audio clips with their friends and followers. TechCrunch reports that this new feature is only available to "a small percentage of users in India," and was designed to encourage more people to share compelling, deeply personal content on Facebook. Whether Voice Clips is rolled out any further will depend on the success of this small test.
Micropodcasting? Facebook tries Voice Clip status updates https://t.co/0siYEj2hvb by @joshconstine

— TechCrunch (@TechCrunch) March 2, 2018
Facebook Expands Breaking News Tag to More Publishers: Last year, Facebook ran a small test in the U.S. that allowed a small group of local and national publishers to identify and label instant articles, mobile and web links, and Facebook Live videos with a breaking news tag. This week, Facebook announced plans to expand this test to 50 additional publications in North America, Latin America, Europe, and Australia. If the expansion proves successful, the breaking news tag will be available to many more publishers.
Facebook Ends Alternative "Explore" Feed Test: Adam Mosseri, head of Facebook News Feed, announced plans to discontinue the Explore Feed and the Explore Feed bookmark. Facebook's Explore Feed officially rolled out to six test countries last October and could be accessed on both desktop and mobile. The alternative news feed surfaced recommended content from sources the user doesn't currently follow. The idea was to create a version of Facebook with two different news feeds, one as a dedicated place with posts from friends and family, and another as a dedicated place for posts from pages. However, user feedback indicated that "Explore isn't an effective way for people to discover new content on Facebook" and actually made it more difficult for people in the test countries to access important information.
Workplace for Facebook Debuts New Mobile Admin Panel: Admins for Workplace for Facebook communities can now run their suite of tools through a mobile admin panel, available for both iOS and Android. Specifically designed for internal use by companies looking to handle tasks such as monitoring metrics, adding new users, taking action on content, and much more, the new mobile dashboard allows admins to "manage [their] Workplace community anywhere and at any time."
Facebook notes that the mobile admin panel is only available to 50% of Workplace communities today, but will be rolling out to all communities "over the coming weeks."
Want to catch our next show live? Click here to subscribe or add our show to your calendar.